Written by Michael V. Reyes
Among my two favorite wine destinations to visit in the world are the charming medieval village of Saint Emilion in the heart of the world famous Bordeaux wine region in France and of course Napa Valley.  It has been a while since my last trip to Saint Emilion, but I will be planning a visit soon.  A UNESCO world heritage site, it is a very unique place where fine wine, beautiful architecture, great monuments and incredible food are a perfect match.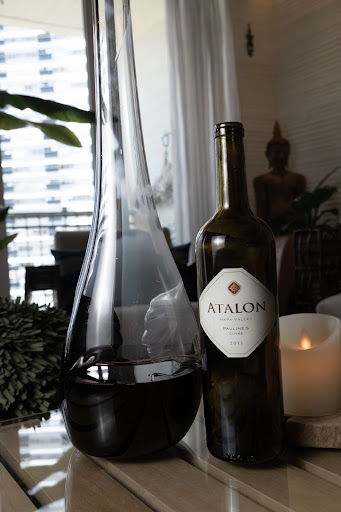 It therefore was a pleasant surprise to receive an offer from Jackson Family Estates, a prolific producer of top California wines from Napa Valley and Sonoma with such iconic brands as Cardinale, Lokoya and  for a few pallets of their Atalon Napa Valley red wine.  Upon tasting a sample bottle, I was instantly drawn to reminiscing the moments that I had the opportunity to enjoy the wonderful wines of Saint Emilion, and in particular, Château Cheval Blanc.  After a few swirls in the glass, aromatic notes of dark cherries, plum, black currant emerged, with layers of spice, toast, tobacco and integrated sweet oak adding to the complexity of the wine.  And to no surprise, the grape varietals in the wine are almost identical to that of Chateau Cheval Blanc – Cabernet Franc, Cabernet Sauvignon and Merlot.  Very impressive for its price, the Atalon has a delicate and soft entry with great depth and balance.  Plump, juicy and resonant in the glass, Atalon is an excellent choice for drinking now, with hints of spice, new leather and dried flowers all laced together nicely.  Grab a few bottles of this value-priced Napa Valley wine for your Holiday table or gift-giving.  Don't let it's low price deceive you – I think it is the Sleeper of the year.  Just had a bottle at dinner with Duck Confit and Cassoulet and I was transported back to Saint Emilion in a hurry.
Available at 35% during the Wine Club's 11/11 sale from November 11- 13 on
www.wineclub.ph