Christmas time is finally upon us and we can feel our communities swell with yuletide cheer. Are you still thinking about what that perfect gift may be? Stop thinking! We have you covered at the Wine Club with special Christmas packs that will make you incredibly popular this season. Every pack comes with three bottles of wine specially selected by yours truly encased in a beautiful custom Wine Club box that will look superb under your Christmas tree. And don't worry, we have a pack for every price range which will make gifting wine very accessible this year.
The Budget Pack
Let's face it, this year has been financially tough for pretty much everyone. No one is blaming you for thinking that wine is out of the picture due to the seemingly out of reach price tag. We designed the Budget Pack for those thrifty wine lovers who still want to gift wine without breaking the bank.
Crane Lake Cabernet Sauvignon 2016
Rich color with notes of blackberry, cherry, raspberry and vanilla. Tannins are soft and layered.
Crane Lake Chardonnay 2019
This wine is a light straw color, with pear, melon and vanilla aromas. Citrus and green apple flavors, with a silky mouthfeel. Well balanced and structured; lingering aftertaste.
Crane Lake Merlot 2015
Fruit forward profile, including blackberry, cherry and vanilla spice. The finish is long and soft with silky tannins.
Regular SRP – PHP 2,040 Special Price with gift Box – PHP 1,500
The Value Pack
Let's say you have a little more to spend this season and you want to level up your selection? Then the Value Pack is for you! We selected some of our best valued wines from 2021 which will make an outstanding present for both new and seasoned wine drinkers!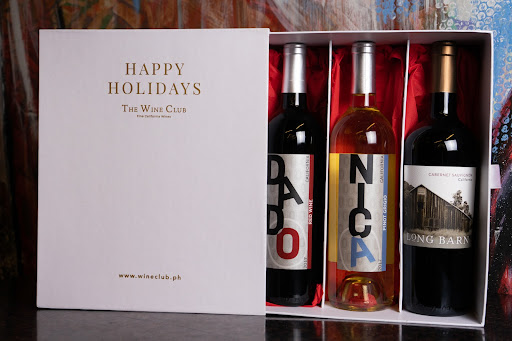 DADO Red Wine 2017
Dado is a versatile red blend featuring charming characteristics that make it easy to like and even easier to drink. The nose is a bowl of dark fruit advancing a straightforward, medium-bodied red wine with flavors of cherries, raspberries and black berries. The sweet, ripe fruit flavors give way to a long finish that has a touch of firm tannin for excellent structure and a touch of oak. Some balancing acidity wraps the package of flavors in a nice tidy bow. The blend is composed of Zinfandel, Cabernet Sauvignon, Merlot, and Syrah.
NICA Pinot Grigio 2017
The NICA Pinot Grigio is a fresh, clean, and refreshing California Pinot Grigio, perfect for a hot day. On the nose we have aromas of unripened green pear and apple. Green apple continues on the palate with a revitalizing acidity and surprisingly long finish – like a bitter lemon drop.
Long Barn Cabernet Sauvignon 2019
As a pure California-born Cabernet Sauvignon should be, this wine is anything but shy with bold, ripe, fruit-filled aromas. A medium to full bodied wine, it boasts luscious flavors of blackberry, rhubarb, and dried cherry with distinctive oak and cedar notes. You'll discover great complexity with defined tannins and a lingering finish. We recommend trying it with prime rib and barbequed summer vegetables.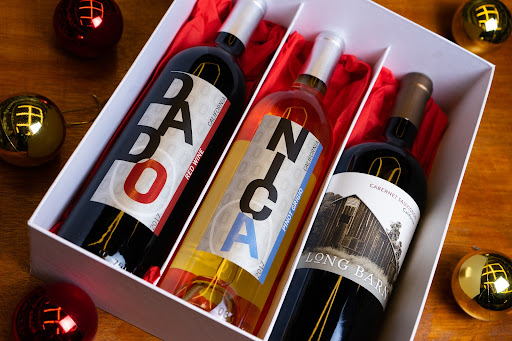 Regular SRP – PHP 2,550 Special Price with gift Box – PHP 2,000
The California Cabernet Tour Pack
California is known for alot, but in the wine world, the GoldenState is known most for the beautiful Cabernet Sauvignon it produces. This pack is designed to give you a tour around California from the coastal regions of Monterey to the inland valleys of Lodi and as far north as the North Coast. Don't miss the opportunity to gift this special experience to someone you love.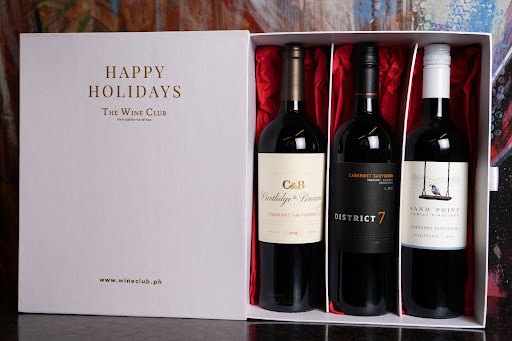 Cartlidge & Browne Cabernet Sauvignon 2018
Centered and balanced with a solid tannin backbone. Dark berry and plum flavors and aromatics of cedar, cola and lightly toasted oak. Produced in the North Coast of California.
District 7 Cabernet Sauvignon 2016
Wonderfully dark with aromas and flavors that include blackberry, elderberry and black cherry, with hints of fresh tarragon, vanilla and toasty oak. It is ripe, round and juicy with soft, integrated tannins and a lingering bright black fruit finish. Produced in Monterey County.
Sand Point Cabernet Sauvignon 2019
Vibrant in color, our 2019 Cabernet Sauvignon opens with an appealing aroma of bright berry. Smooth tannins support the core flavors of fresh cherry and ripe berry, which are intertwined with spice from the oak aging. As a full-bodied wine, it is easy to enjoy for any occasion. Produced in Lodi county.
Regular SRP – PHP 3,400 Special Price with gift Box – PHP 2,800
The Premium Pack
The Premium pack features three bottles from our Decoy Line by the Duckhorn Portfolio. For those who don't know about the brand, I did an excellent podcast with Decoy wine maker Dana Epperson on the Listen to Me Wine Youtube channel. You can watch here:
The Decoy brand is the entry point to Duckhorn Vineyards portfolio and is, in my opinion, the absolute best way to experience premium California wine. With focus on being varietally correct, this pack will help you understand why California wine is famous worldwide. Reserve this pack for the truly special people in your life.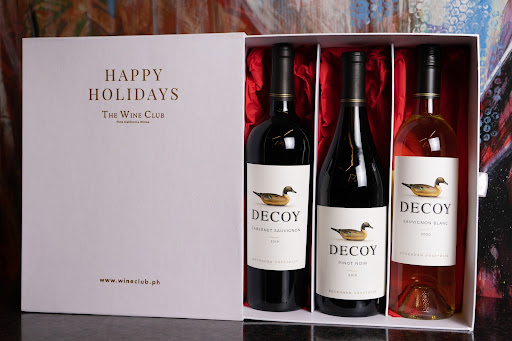 Decoy Cabernet Sauvignon 2019
From its aromas of vibrant red and blue fruit to its silky tannins and balanced acidity, this is a lush and alluring Cabernet Sauvignon. On the palate, rich flavors of raspberry, ripe plum and blueberry carry the wine to a long, luxurious finish, with nuanced hints of oak and sweet baking spices.
Decoy Pinot Noir 2019
This alluring Pinot Noir offers beautiful layers of black cherry, currant and strawberry, with subtle notes of rustic forest floor and spice. On the palate, it is soft and silky, with balanced acidity framing the vibrant berry flavors and carrying the wine to a long, lush finish.
Decoy Sauvignon Blanc 2020
This vibrant Sauvignon Blanc begins with inviting aromas of sweet citrus, pink grapefruit and fresh-cut hay that rise from the glass beckoning a first sip. The energetic citrus notes are echoed on the palate, where they mingle with enlivening natural acidity and flavors of summer melon and refined minerality that carry the wine to a sleek, refreshing finish.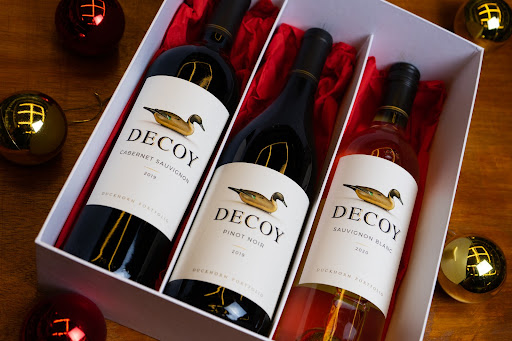 Regular SRP – PHP 5,750 Special Price with gift Box – PHP 5,000